Anomaly Scan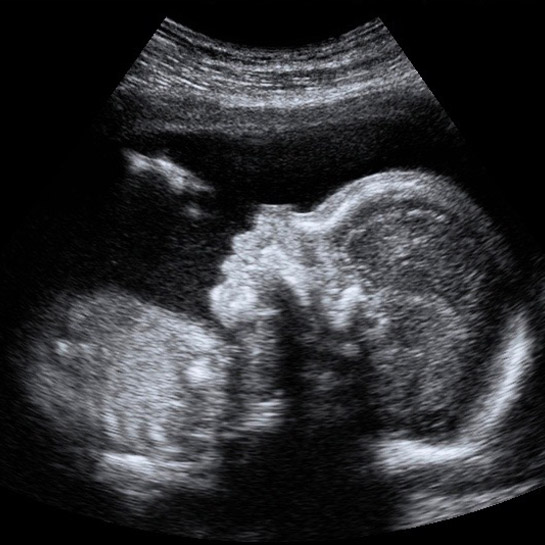 This is a very detailed scan performed at about 20 weeks. It can be done as early as 19 weeks, but the baby is a bit bigger and its structure can be more clearly seen if it is left to 20 to 22 weeks. In involves systematically scanning through the baby looking at all the major structures and organs to check that the baby looks normal. As with the nuchal translucency scan, this scan is offered to you routinely by your local hospital, but reasons for thinking about having it done privately at Beard Mill Clinic include:
Plenty Of Time
Each appointment is allocated one hour to make sure that there is plenty of time to do the scan and discuss the results with you.
Description Of The Scan Findings
Victoria provides a running commentary throughout her scans, pointing out the structures that she is examining as she looks at them, giving you the opportunity to see some of the baby's anatomy for yourself and understand the scan. Most parents are amazed at just how much you can see and enjoy their anatomy lesson!
Extra Markers
There are very specific views that the National Screening Committee has set as a minimum standard to be looked at during an anomaly scan. Additional checks will obviously give more reassurance and Victoria has the luxury of more time to do a more detailed scan, looking at more subtle markers, such as the spacing of the fingers and toes, that would not normally be looked at routinely.
Gender Identification
Not everyone will want to find out, but Victoria will always ask if you want to know the baby's gender in advance of the scan and will tell you if you do.
Referral For Further Tests If Necessary
In most cases the anomaly scan provides parents with reassurance that their baby seems to be developing normally. But occasionally a major abnormality will be detected and further investigations may be required. In this instance Victoria will give you as much information as possible to help you understand potential problems and will arrange a referral directly back to your NHS consultant or GP and will liaise with them to ensure the continuity of your family's care.
Although most of the major abnormalities can be identified on a detailed scan, parents must always be aware that ultrasound cannot exclude all abnormalities and must appreciate that there are limitations to ultrasound screening.